Sneaky Sunbathing, Scene #01
Loading advertisement...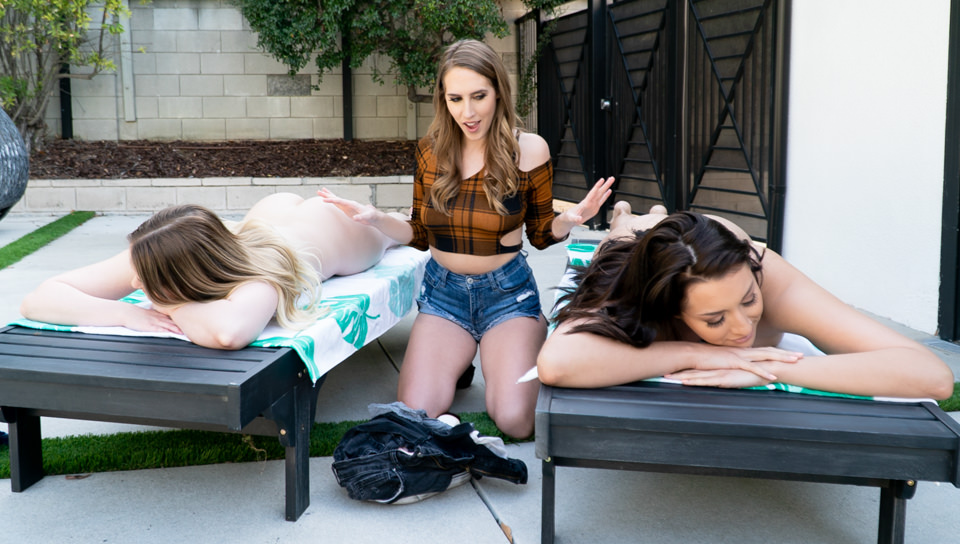 Up next
Road Queen #09, Scene #01
Cancel
I Like This
Unlike
Like
Please Login to Vote
I Dislike This
Un-Dislike
Dislike
Please Login to Vote
Sneaky Sunbathing, Scene #01
Publisher: allgirlmassage
Stars: Cadence Lux, Bella Rolland, Kenzie Madison
Story:
Two wives, Kenzie Madison and Bella Rolland, are excited to try topless sunbathing for the first time in their own backyard. They've wanted to try it awhile but kept putting it off, worried about what their neighbors might think. But now the weather is perfect, so here's their chance!As they strip and lay down, side by side, Kenzie frets a little about their nosey neighbor, Cadence Lux. If anyone is going to catch them sunbathing, it's gonna be her! But Bella assures her wife that if Cadence wants to creep on them while they're enjoying private time on their own private property, so be it! With that vote of confidence, Kenzie puts her head back down with a smile, soaking in the sun.As soon as the wives aren't looking, Cadence mischievously sneaks into the backyard. She slips in between the wives and grabs some nearby suntan lotion, sneakily rubbing it onto them in awe. Since both Kenzie and Bella have their eyes closed, they have no idea they're being massaged by Cadence instead of each other… until Cadence's lust makes her push her luck too far as she palms their pussies.As she's found out, the wives scold her. Much to Cadence's surprise, instead of calling the cops, they invite Cadence to finish what she's started. Maybe then Cadence will finally stop spying on them all the time!They're too hot to stay in the sun any longer and move the fun inside. Even so, they're all still scorching as they have a fiery threesome, working out Cadence's lust and boosting Kenzie and Bella's newfound confidence. But will any of this deter Cadence from spying or just make her come back for more??